---


Warsaw city center air quality profiling project
July 22, 2020, 3:35 p.m.
On July 22, 2020, the Warsaw city center air quality profiling project was launched, coordinated by D.Sc. Michał Chiliński from the Department of Biology of the University of Warsaw and D.Sc. Krzysztof Markowicz from the Atmospheric Physics Department of the Institute of Geophysics of the University of Warsaw.
Measurements of the vertical structure of smog in the Warsaw city center are carried out using five sensors. They were installed on different floors of the Palace of Culture and Science. The highest-mounted sensor that determines the degree of air pollution is located just below the clock on the palace tower, on the 40th floor, at an altitude of 152 meters.
Additionally, meteorological measurements will be conducted under the project.
---
Originally published on - July 22, 2020, 3:35 p.m.
Last update on - July 30, 2020, 2:55 p.m.
PHOTO GALLERY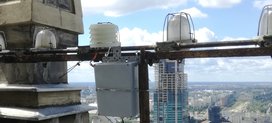 SUGGESTED ARTICLES